Printables & eGuides
Find Your Perfect Study Abroad
Program eGuide
Searching for a study abroad program that will help shape your future, fulfill academic or career goals, and provide you with an unforgettable experience? Use this FREE eGuide to learn how to select the right program that fits your needs.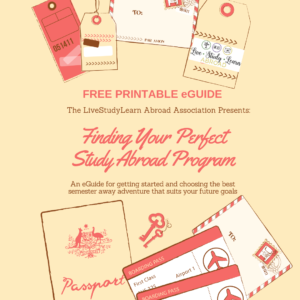 Find Your Perfect Study Abroad Program eQuiz




Take our FREE eQuiz to learn more about the best type of study abroad program for you. This short and fun quiz can be completed alone or used in conjunction with our eGuide.
Download our FREE eGuide or eQuiz and learn how to create a semester abroad that will transform your university experience.